All PlayStation consoles have a unique red screen error, commonly known as a Red Screen of Death. Depending on the console, it is either the result of a disc or a system error.
PlayStation
This error happens if you insert an unknown disc into PS1. When it happens, the startup plays normally, but it suddenly changes to tiles of squares fading from white to red to the right and a text saying "Please insert PlayStation format disc". It only appears on an SCPH-10X model. Some models showing a PlayStation format disc must insert to a PS1, while some having a blue background or a menu screen with a text saying "Please insert PlayStation CD-ROM".
PlayStation 2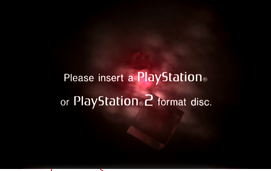 As with the original PlayStation, the RSoD happens on a PS2 console when a user inserts an unknown disc format. When it happens, the typical blue background suddenly changes to a red screen, with text saying "Please insert a PlayStation or PlayStation 2 format disc". The background music is much like the menu screen, but lower-pitched and more tense.
Any incompatible disc such as Xbox 360, Wii and PC discs can trigger the RSoD. If a user inserts an original Xbox format disc, an Xbox DVD video is played with text in six different languages saying "This is an Xbox game disc. Please put it in your Xbox to start playing". If a Dreamcast disc is inserted, track 2 can play sound telling the user to remove the disc immediately. Track 1 cannot play because it is a data track.
PlayStation Portable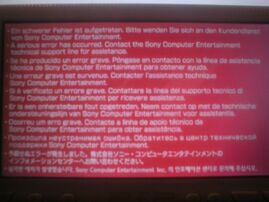 A rare error happens caused either a BIOS, a necessary components, files, and the system itself. The screen shows red, with the text showing "A serious error has occured. Contact the technical support line for assistance." in 12 different languages.
PlayStation 3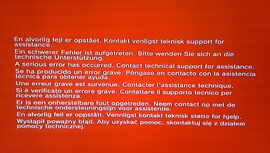 An error happens similar to PSP but the screen is different. It shows 19 different languages instead of 12 and it has 2 pages, transitioning every few seconds. Unlike the PS1 and PS2, this is an error instead of an unknown disc reading.
PlayStation 4
The rarest error in PlayStation history. Only few people experience this error, who bought PS4 launch models. Instead of usual startup, it shows a weird creepy red seizure on the screen. It is important to test the console first before buying it.
PlayStation 5
PlayStation 5 has no official Red Screen error. It might cause either the system error or the seizure similar to PS4.
Community content is available under
CC-BY-SA
unless otherwise noted.