Jurassic World: Dominion Dominates Fandom Wikis - The Loop
Play Sound
Spaces were locations within PlayStation Home. There were many interconnected spaces in which users could meet each other and play games together.
To travel between spaces users could select them from the World Map, and later by using its replacement: the Navigator.
Public spaces
Public spaces were places where anyone could visit. There were many public spaces that served different purposes such as social gathering, product promotion and social gaming.
While Sony produced and managed the core spaces, there were also many other public spaces by third-parties. Most were dedicated to specific video games or developers, but some were also sponsored by non-gaming companies such as Red Bull. Some spaces were active all year round, while others were only availabe during certain times.
Core spaces
Home Square/The Hub – The starting point in PlayStation Home. It provided a meeting place for users and immediate access to other locations. Originally the Central Plaza in North America, it was retired in November 2011 and replaced with the Hub. Upon logging in, users were automatically given a chunk of rock ornament as a memento of this space. At the same time, the Home Square, used elsewhere, was given a new look.
Shopping Centre/Mall – The main shopping area featuring a number of stores where users could buy clothes, furniture and personal spaces for their avatar. In North America, the mall was a building with two floors, both featuring the Wardrobe Wars mini-game, while in the PAL version it was an outdoor square with several storefronts.
Bowling Alley/Game Space – The main recreational location where bowling and pool could be played, as well as arcade cabinets featuring the games Ice Breaker and a version of Echochrome. It was usually highly populated.
Home Theatre/Movie Theater – A virtual cinema designed specifically for accessing video content. There were ten screens showing a range of content such as film and video game trailers, podcasts, full-length TV shows (

The Tester

), and video game featurettes (

Pulse

,

Qore

).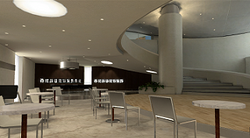 Gamer's Lounge/Home Café – A space to hold scheduled meetings between video game developers and players. The main area was designed for a speaker, with many tables and seating for guests. There were also side booths for more private conversations. On the second floor was a questionnaire. In the PAL version, the Lounge was dedicated to showcasing the launch of the PlayStation Vita.
Events Space – A group of six sub-spaces that regularly held parties and events based around PlayStation releases and announcements, including

Fat Princess

, the PSP-3000, and a tomato fight in promotion of

Buzz! Quiz World

. This space was only on show for limited times. The Presentation Podium sub-space was equipped with a jumbo screen and an attractive lounge area.
The Playground – An urban space with many inner city furnishings. Launching on 17 June 2010, it included a dance floor, tables to play chess, and two basketball courts for the mini-game H-O-R-S-E, as well as a store with items pertaining to the space itself. Like many other spaces, the Playground had its own music playlist, in this case consisting of 40 R&B/hip-hop tracks which were played at the dance floor. The music's popularity later spawned the release of the Playground Boombox, an active item which would play the tracks for personal spaces.
Districts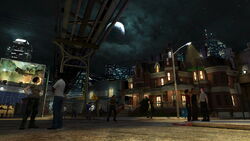 Action District – A gathering place for the hardcore demographic with a gritty, urban feel reminiscent of a first-person shooter level that provided a direct travel point to action and horror games.
Sportswalk – A space with an outside-the-stadium feel that featured instant major league sports scores, headlines and highlights, and provided direct travel points to sports-related games.
Adventure District – A lush island jungle setting with an air of mystery, hidden treasure and discovery, where players were able to launch directly into adventure-themed games.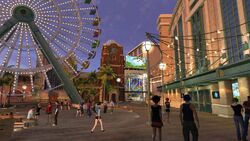 Pier Park – A waterfront boardwalk that led players to carnival, puzzle, outdoor and arcade games. There was also a Ferris wheel that players could ride and see the horizon drift down as the wheel turned.
Indie Park – A place dedicated to indie developers where they could showcase their games.
Personal spaces
Personal spaces, also known as private spaces, were locations owned by a user. Every user had a personal space that they could personalise with their own choice of decor and furnishings. One personal space and a range of basic furniture items were provided to all users free of charge, with many premium options available to purchase from the stores in Home. Some furniture and decorative items could also be won from the mini-games in Home or from Home reward-supporting PlayStation 3 games.
You could visit your own personal spaces as and when you wanted, but to visit another user's personal space you needed to be invited. Users could invite up to eleven other people to their personal space, as long as they were added as a friend.
Initially, there were plans to add hall of fame-style Trophy Rooms to personal spaces where users could display 3D representations of their earned PSN Trophies. However, this idea never materialised.
Notable personal spaces
Harbor Studio – The default personal space. It was a modern studio apartment with a balcony overlooking a populated harbor.
Lakeside Log Cabin – Usually a premium space but was given away for free to European Home users for a limited time. It was a rustic log cabin featuring two rooms connected by a balcony with views of a large lake.
Chamber Apartment – A free personal space that was only available from 14–21 May 2009 to North American users. It was in the style of an ancient ruin with fire-pits, waterfalls, and a giant tree of life at its centre.
PlayStation Home Mansion – The first expandable personal space. It was a grand mansion with four seperately purchasable areas: two floors inside, a back outdoor space with a large infinity pool, and a front driveway including a four-door garage.
See also